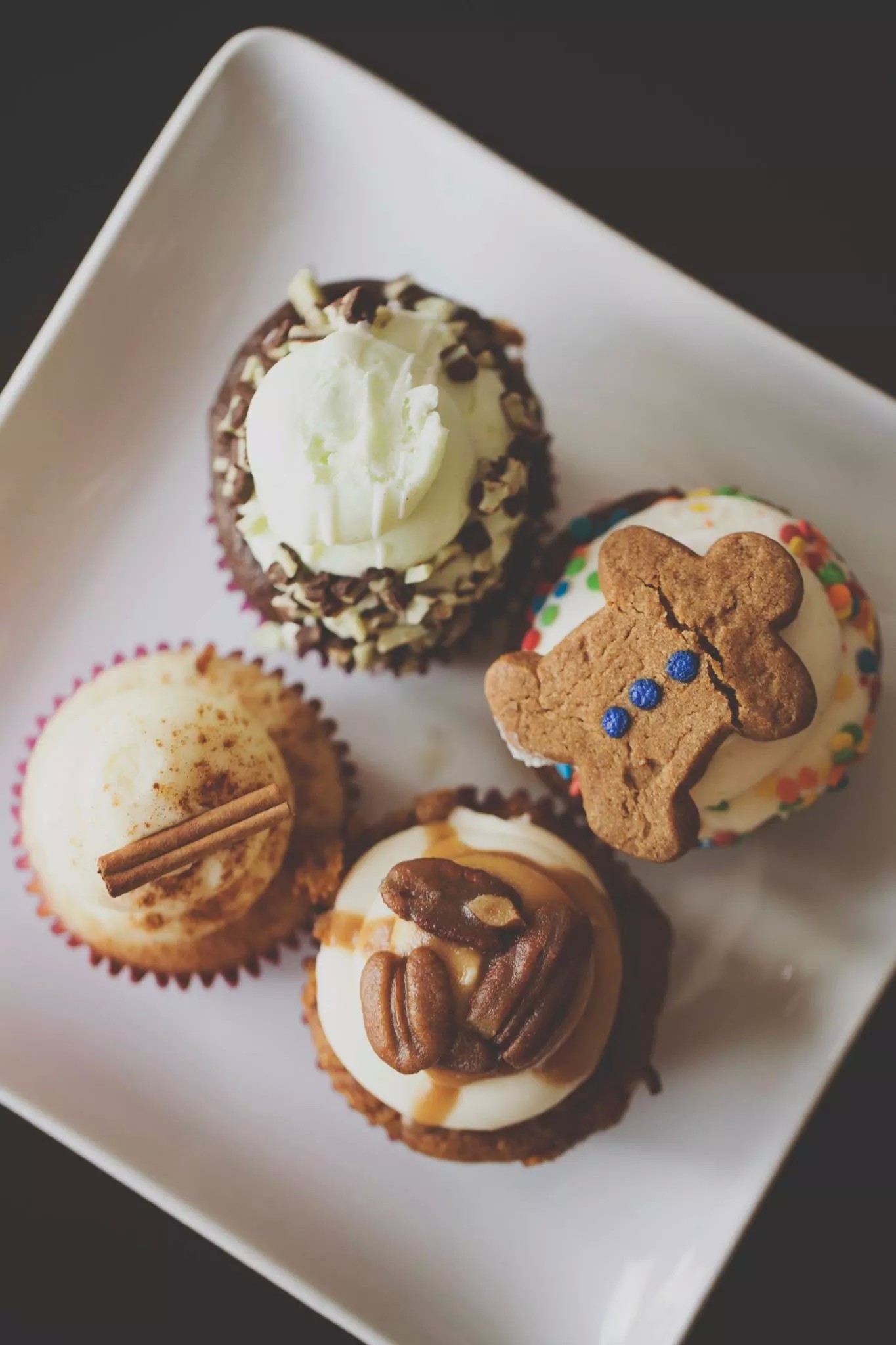 Vegan, Gluten-Free, Dairy-Free, and Soy- Free
All of our cakes are handmade from scratch, thus, we have the ability to alter and make substitutions to every recipe. Almost every cake can be altered to fit your dietary or allergen needs. It's our philosophy that no one should have to sit out on dessert!
Specialty Flavors (Customer Favorites)
Chocolate Peanut Butter Cup
The most popular favorite treat. Classic moist chocolate cake topped with a light and creamy peanut butter frosting, laced with a hint of saltiness, and chocolate candies or chocolate drizzle.
Beachside Pina-colada
Fresh pineapple baked into a moist vanilla cake, topped with a sweet buttercream and sweetened coconut flakes.
Salted Carmel Dream
Dense vanilla cake topped with clouds of vanilla caramel buttercream, garnished with a caramel drizzle and a mild sea salt dusting for a perfect balance of sweet and salty.
Devilish Chocolate Chocolate
Dense and moist double chocolate cake topped with rich chocolate buttercream frosting drenched with dark, semi-sweet, or milk chocolate layers to finish.
Toasted Marshmellow Smore's and More
Chocolate cake topped with a toasted marshmallow fluff buttercream frosting, graham cracker cookies dusting, and classic chocolate pieces.
Chocolate Cherry Sundae
Chocolate cake served with fluffy vanilla almond buttercream frosting, chocolate sundae drizzle, and a maraschino cherry on top.
Chai Tea Latte
Chai spiced vanilla cake, soft and foam-like vanilla chai buttercream frosting, and a decorative sweet cinnamon dusting.
Wisconsin Cheese and Red Velvet
A Midwest classic. Dense Wisconsin cream cheese frosting perfectly mounded atop a smooth chocolaty red moist cake.
Chocolate Mocha Delight
Classic chocolate cake, smooth and creamy mocha buttercream, garnished with a chocolate covered espresso bean for an extra zing of caffeine!
Lemon Supreme
Sweet lemon cake, cream cheese and non-dairy whipped frosting, cool lemon filling, and walnut pieces to garish.
Chocolate and Banana Bananza
A funky monkey treat that incorporates moist chocolate cake, fresh banana buttercream icing, and chunky chocolate and walnut bits to garish.
Raspberry White Chocolate Citrus
Sweet lemon cake, fresh raspberry buttercream icing, white chocolate and fresh raspberries to garnish.
Custom Made Ice-cream Cake
A crunchy made from scratch chocolate cookie crust, Classic chocolate or vanilla ice cream layers, Crunchy cookie center, whipped topping icing, and your customs choices including: 1 premium ice cream flavor; 1 candy topping; up to 3 drizzles.
Chocolate Ganache and Berries
3 layers of Classic chocolate cake, layered with light and fluffy chocolate mousse filling, whipped chocolate icing, a soft chocolate ganache layer, piled high with fresh raspberries, strawberries, blackberries, and blueberries (seasonally).
Chocolate Stout Cake
Deep chocolate cake partnered with the strong flavors of Guinness to bring you a stout Irish cake. Topped with chocolate whipped cream and ganache.
German Chocolate Cake
Classic light and airy chocolate cake layered thick with sweetened milk-pecan-coconut icing. No additional explanation needed for a true German. Klassiker und kostliche.
Grammy's Chunky Carrot Cake
Grandma's classic chunky carrot cake recipe including pineapple, pecans, and carrot pierces, topped with thick cream cheese frosting and garnished with diced pecan pieces and carrot shavings.
Baliey's Irish Cream
Chocolate cake with a baileys cream filling, topped with a creamy liqueur and coffee flavored buttercream icing, and topped with bailey's white chocolate drizzle.
Lavender Blossom
Available in a moist vanilla or chocolate cake, topped with an AROMATIC lavender infused buttercream icing that leaves you with sweet floral notes, finished with lavender pedals
Chocolate Almond Bliss
Chocolate cake, buttercream icing and chunky sweetened coconut, dipped in a milk chocolate coating, and garnished with sliced almonds and flaked coconut.
Pumpkin Cream Cheese
A fresh and moist pumpkin spiced cake, topped with a creamy cream cheese buttercream icing and topped with a chunk of the made fresh cheese cake.
Pumpkin Praline
Fresh pumpkin cake with a southern twist. The creamy cream cheese icing is topped with a textured and buttery praline and pecan sugary glaze.
Caramel Apple Cider
A moist spiced cider cake, topped with a fresh caramel buttercream icing, then garnished with fresh tart apple slices and ready caramel. (seasonal)
Italian Tiramisu and Cream
A soft rum and espresso infused cake, topped with our signature mascarpone buttercream icing, dusted heavily with cocoa powder and finished with a classic lady finger.
Salted Caramel Mocha
Chocolate cake topped with decadent chocolate coffee buttercream icing, drizzled with fresh caramel, and finished with a savory sea salt dusting. This will make you want to snuggle up to a fire.
Better than Sex
Chocolate cake that soaks up sweet liquid milk infusion, topped with whipped topping or fresh whipped cream, creamy caramel drizzle, and chunky toffee pieces. Served in the naked cake style to showcase each decadent layer.
Key lime Pie
A sweet and tangy lime zest infused cake, topped with a fluffy whipped cream and cream cheese icing, sprinkled with graham cracker crust pieces and a fresh key lime slice.
Chocolate Maple Bacon
Chocolate cake topped with a sweet maple buttercream icing, finished with a massive piece of crispy pork bacon.
Turtle Pecan Sundae
Chocolate cake topped, classic vanilla almond buttercream icing, drizzle with chocolate, creamy caramel, and salted pecan pieces.
Pomegranate Vanilla Bean
Classic soft vanilla cake filled with a fresh made tangy and sweet pomegranate fruit filling, topped with a sweet vanilla bean buttercream icing and finished pomegranate seeds.
Andes Choco Crème de Menthe
Chocolate cake topped with a fresh crème de menthe buttercream icing, drizzles with chocolate and sprinkled with pieces of Andes mints.
Boston Cream Pie
Fresh vanilla cake filled with a creamy custard filling, topped with chocolate buttercream icing, dipped in chocolate ganache, drizzled with white chocolate, and topped with an organic maraschino cherry.
Fresh Fruit Tart
Fresh German custard, made from our oldest family recipe, chilled and placed inside a simple shortbread tart crust and finished with sweet seasonal fruits and a simple syrup fruit glaze to seal in the freshness.
New York Cheesecake
Classic crust less cheesecake slow baked with fresh cream, eggs, and butter with hints of vanilla, amaretto flavors then chilled to delivery you creamy perfection. Severed with fresh whipped cream of seasonal fruit when available fresh.
Praline Cheesecake
Our decadent new your cheesecake with a southern twist. Covered in a praline sauce and fresh spice whipped cream.
Pumpkin Cheesecake
Your favorite fall flavor available any time of the year. Pumpkin infused cheesecake served chilled with a sweet pumpkin spice whipped cream.
Classic Flavors
Peggy's Classic Chocolate Cake
Classic Vanilla Almond Cake
Chocolate Buttercream
Vanilla Almond Buttercream